Sorting machine for processed products
800 mm
is the effective sorting width available to you with the Cinderella® machine type.
Capacity depends greatly on the product type and size.
Fried potato chips are very different from fresh French fries.
1.6 m/s 
is the minimum speed of products at the inspection point.
The Cinderella® identifies the following on the product surface:
Color values
Contrast differences
Degree of browning for fried products
Peel remnants, spots of rot
Green marks
Red, brown, and black spots
Foreign objects
The size and external shape of the product are also detected.
Fast and spot-on
operation of more than 150 sorting valves at the output of the sorting machine.
The electrically controlled valves are arranged in a fine grid parallel to the output.
Objects are sorted out with a brief, targeted pulse of compressed air. The size of the object determines how many sorting valves are actuated at the same time. The pressure of the compressed air is automatically controlled by the sorting program selected.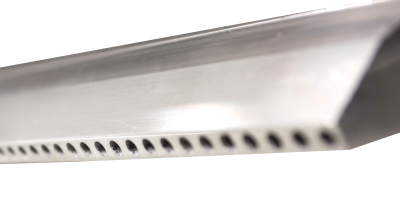 Precision
is a striking attribute of the Cinderella® sorting machine.
The narrow grid of the sorting valves and the controllable sort pressure guarantee an accurate sorting result.
Further advantages are:
Low energy consumption
Can be used around the clock
Compact and easy to set up
Few parts prone to wear
Long service life with low spare-parts costs
You can download brochures here